Job and Task Management
Manage jobs effectively by uniting mobile workers and the back-office with Fieldfusion.
Unite mobile workers and the back office.
Businesses relying on mobile workers can be hindered by a lack of unity between the office and those in the field. With the Fieldfusion cloud-based fieldwork app you remove the barriers between these two vital components of your business and enable them to work together to greater effect.
Powering Efficiency
Engineers in the field utilise Fieldfusion to complete site survey. Back office gets a notification instantly and uses Fieldfusion to schedule an installation immediately. This two-way communication removes errors, eradicates duplication and makes the entire process more efficient. Creating a highly organised and centralised approach through Fieldfusion allows your business to increase strength, agility and profitability. You can book more jobs, more efficiently, more often.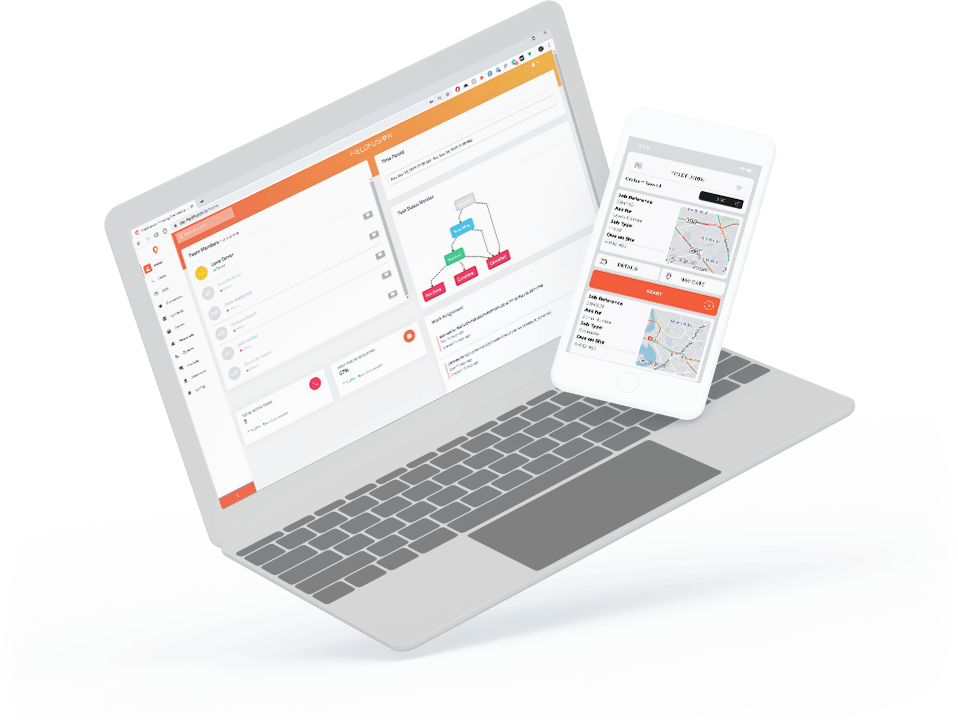 Tracking and Analysis
Fieldfusion brings you intelligent insight. Manage jobs from an initial enquiry through scheduling to completion, invoicing and after-care. Track and analyse progress, performance and success criteria. Combined with our industry-leading dashboards and reporting functionality, you're in control with insights on what engineers have completed and where. Fieldfusion provides you with a clear and accessible job history.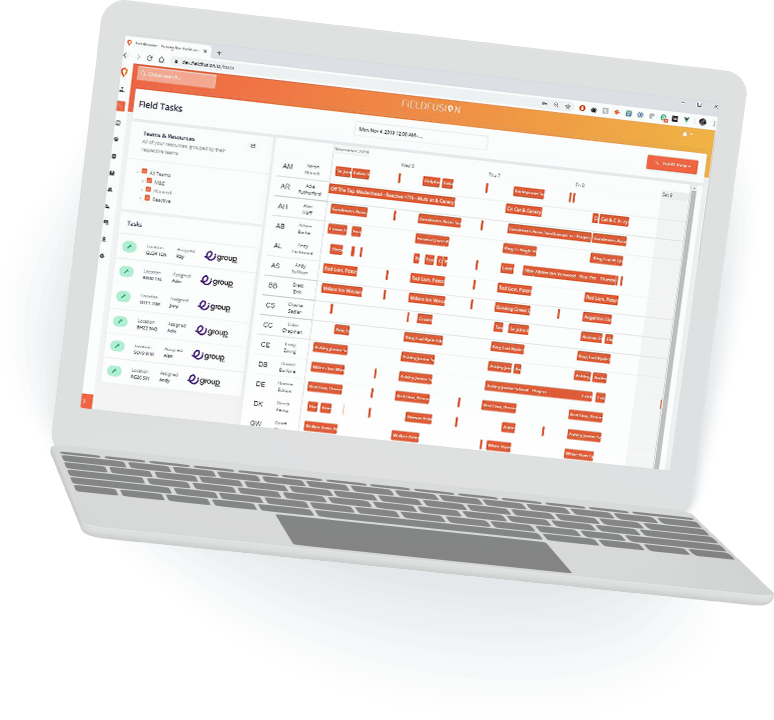 Intuitive functionality
Jobs can be created in seconds. Scheduling is managed with simplicity. Our drag-and-drop process is intuitive. With real-time updates you can keep the business running like a well-oiled machine.
Fieldfusion utilises visually insightful, intelligent Gantt charts to make scheduling easy. See at a glance where resources and engineers are being utilised. Combined with GPS tracking and data, Fieldfusion helps you lower response times and create routing efficiencies.
Empower Your Workforce
Bring engineers out of the dark and equip them with the information they need on the road. You can notify engineers quickly and efficiently by communicating with them through Fieldfusion. Additionally, create accurate time sheets and expenses reports at the touch of a button.
Job Status
Fieldfusion allows changes to job statuses which can be visualised with ease. This allows engineers and office staff to move jobs efficiently along their journey
Efficiency
The job management features enable you to drastically cut paper waste whilst improving traceability.
Simplified and efficient, see the job management features of Fieldfusion in action...