Field service management software built for you.
Maximise your operational efficiency, empower your staff and delight your customers by creating a seamless link between your office, mobile workforce and clients.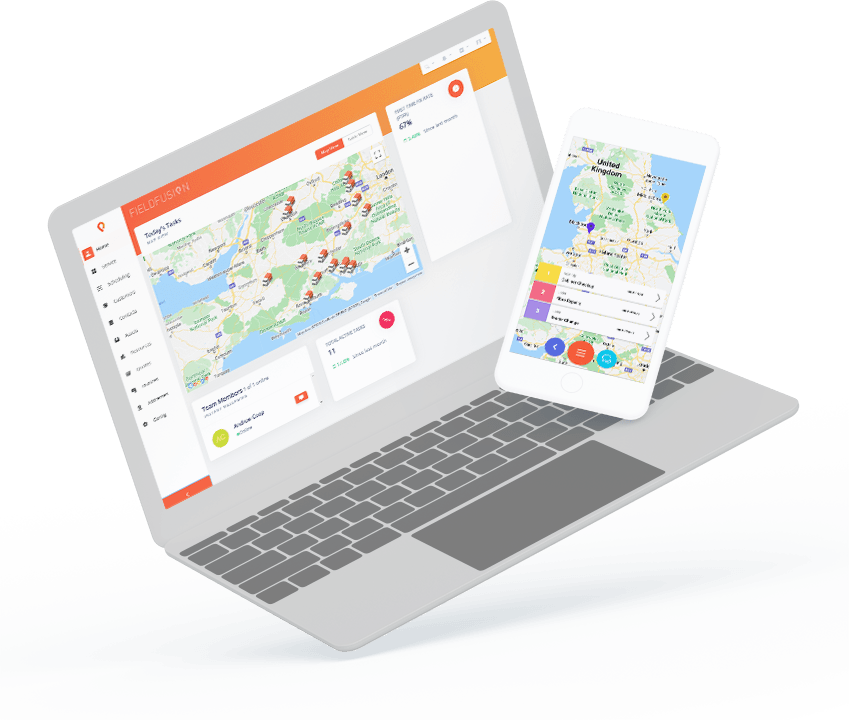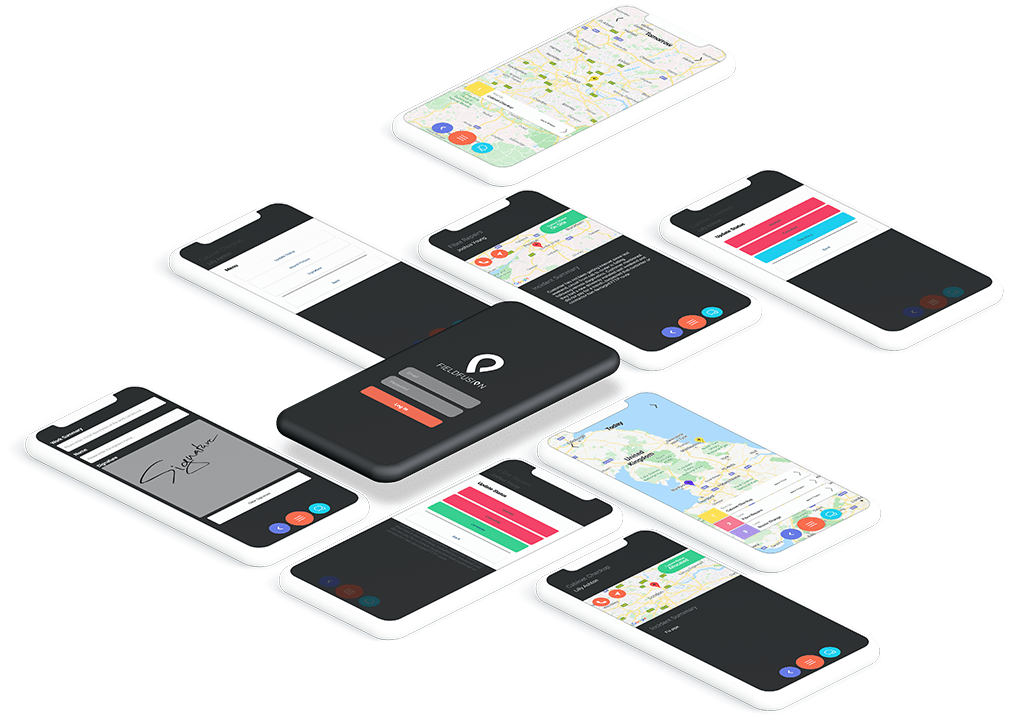 How can you benefit from Fieldfusion?
Focused on ease-of-use, Fieldfusion is cloud-based Field Service Management (FSM) software — a web application for office staff, and a mobile application for field engineers. It provides a seamless, real-time connection between your office staff, field teams and customers so they're kept up-to-date at all times.

Fusing your workforce in this way empowers your staff with the insights to work smarter — our customisable feature set supplements their skills to make your organisation as efficient as possible.

Fieldfusion makes health and safety compliance simple and straightforward. Our centralised H&S Portal means all documentation is available instantly — no more missing documents or permits to delay work.

Fieldfusion utilises cloud technology to provide exceptional functionality. It is built to bring simplicity to a sector rife with complexity and inefficiency.

Available on Android, iPhone, PC, and Mac, Fieldfusion is the future of Field Service Management.
From the ground up.
Fieldfusion is simple to use with intelligent technology, an intuitive design, and is fully integratable with any systems you might currently use. Here are a few key points we focused on when building Fieldfusion:
---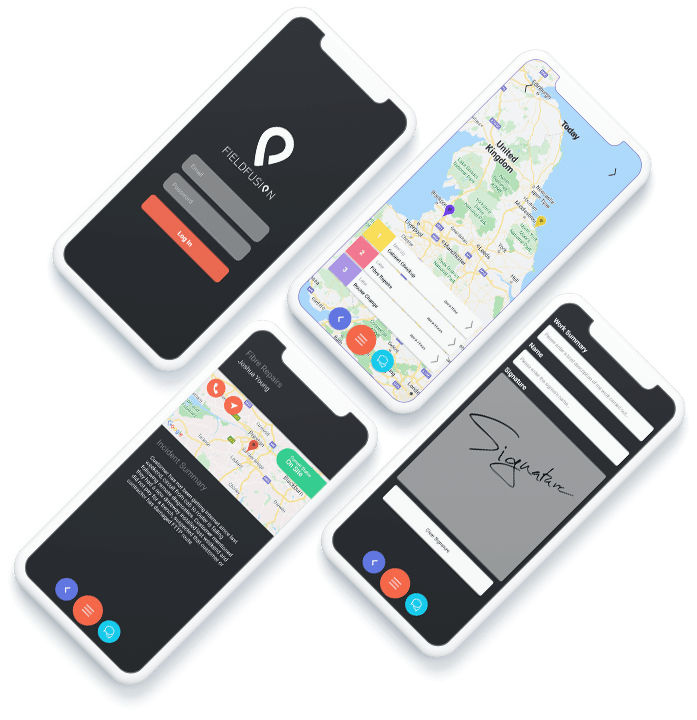 MAKE IT YOUR OWN.
Infinite customisation.
Fieldfusion seamlessly integrates into your business with comprehensive customisation options — from tailored databases to adding your logo.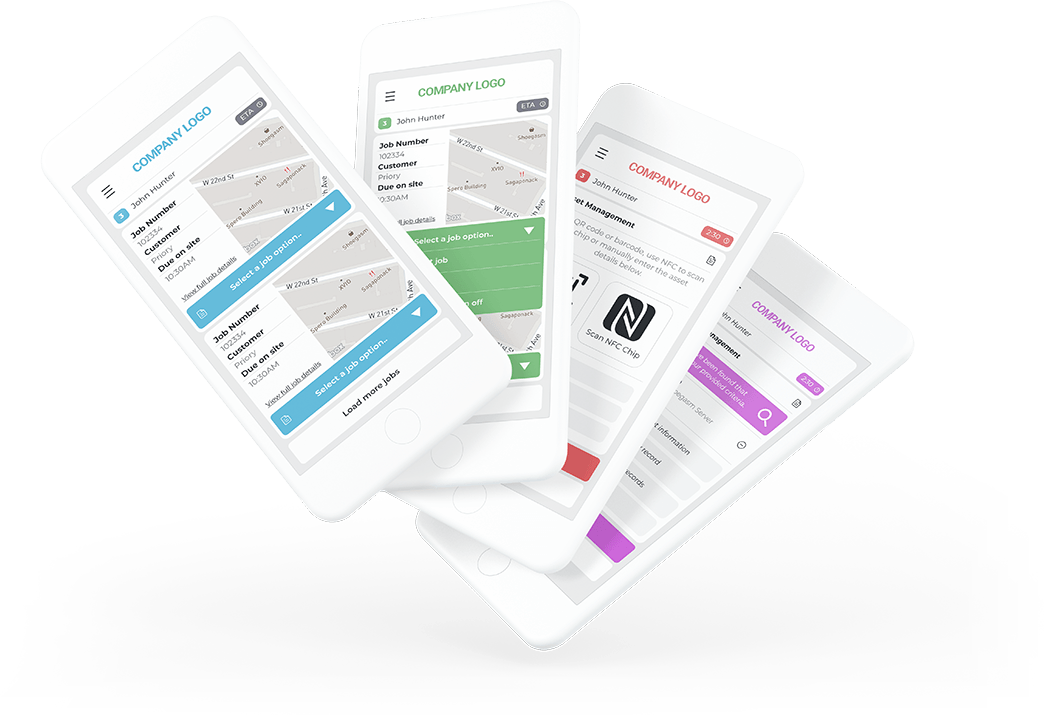 Who are we?
Fieldfusion is made up of a skilled team of experts. We have decades of experience working in both an operational and IT capacity for field service organisations, including infrastructure and cloud-platform design. This has enabled us to recognise the unique dilemmas and difficulties faced by many in the field service industry. Our motivation has been to develop an app which proactively solves these problems and brings enterprise-level functionality to SMEs.
We didn't just design another field work app to add another layer of complexity. We stripped down the tasks and processes to build a solution from the bottom up. The result is a cloud-based field work app which transforms processes once characterised by complexity and inefficiency.

We are changing the way you do field work. We are Fieldfusion.
INTUITIVE
Fieldfusion has been designed, tested and refined to be easy-to-use through the intuitive use of technology. No unnecessarily complicated processes or repeated actions—just simple, straightforward web and mobile apps for office staff and mobile workers built to make working life easier.
INTEGRATED
Integration becomes central to your workflow. Fieldfusion enables seamless interaction between office staff and those working in the field. Business data, including customer information, schedules, accounts, assets, routing, health and safety documentation and more are all integrated securely with full-GDPR compliance. Fieldfusion is cloud-based, so eliminates the need for constant software updates and all data is stored securely offline, ready to upload once a connection is restored.
INTELLIGENT
We understand field workers' requirements in every sector and have harnessed our exceptional programming knowledge to create a cloud-based fieldwork app which overcomes many of the difficulties faced by engineers in the field. From signing-off jobs with digital signatures, to integrated forms and health and safety paperwork, Fieldfusion is powerful technology in the palm of your hand. This is the tool your business needs to elevate their reputation through exceptional customer service.
Do more with less.
---
Fieldfusion fuses your back office and field staff in a way not possible before.
Connectivity and Security
Blend back office and field tasks through seamless connectivity.
Data back-ups and security protocols are integral to Fieldfusion.
Our algorithms simplify scheduling through use of intelligent GANTT charts — from a single job for one engineer to multiple team-based tasks there are no more impossibilities, just efficiency.
Health & Safety is at the core of what you do, so it's at the core of Fieldfusion. Health & Safety is made simple by integrating seamlessly into the Fieldfusion workflow.
Create a central hub of accessible information so that the right person has access to the right knowledge at the right time. From photos to work history, it's all at your fingertips.
Remove duplication through automation tools built to make you more effective at what you do and increase customer satisfaction.
TRY FIELDFUSION
See the difference.
---
If your business is hampered by complexity and hindered by inefficiency, you know that technology should be able to help but haven't found a solution that works. You need a field app which meets your expectations. You need absolute assurance that the technology you choose has Health & Safety functionality at its heart. You need a real-time, connected, intuitively integrated solution.

From electricians to plumbers, HVAC workers to property maintenance, landscaping to cleaning, Fieldfusion is your solution. We'd love to discuss how Fieldfusion can propel your business to success. Book a free demo today.
Book a free demo
or contact us for more info